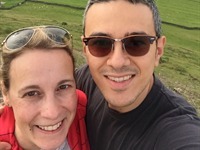 About us
Hillcrest House is run as a private family guest house, recently taken over by Musti and Alison.
Having worked in an office environment for a long time, it dawned on us that we weren't making the most of our lives and we needed a way out. We were fortunate enough to travel around the world for a year, which opened our eyes to alternative lifestyles.
We love meeting new people, entertaining guests and making them feel welcome. We are passionate about the Peak District and Derbyshire, and we will do our utmost to preserve and promote it in the future.